Logos Quizz France Musique- Jeux Vidéo 1,2 :Solutions
On enchaîne rapidement avec les solutions du jeu Logos Quizz France série Musique et Logos Quizz France série Jeux Vidéo. Une fois ces logos sont dévoilés, il ne vous reste plus à désinstaller le jeu et à télécharger un autre !
Solutions Logos Quizz France Musique
Série Musique Page 1
Queen
Motorhead
Johnny hallyday
Cher
The offspring
Psy 4 de la rime
Rihanna
Kool & the gang
Spice girls
Green day
Aerosmith
Rolling stones
Katy perry
Iam
Rammstein
Michael jackson
Bob marley
Pink floyd
Tokio hotel
The who
Série Musique Page 2
Jackson 5
Lady gaga
Scorpions
Aqua
Fonky family
Sum 41
Slipknot
Xzibit
Lmfao
Korn
Village people
Bruno Mars
Red hot chili peppers
David bowie
Boney m
U2
Earth wind and fire
Indochine
Deadmau5
Wu tang clan
Série Musique Page 3
Soprano
Nirvana
Acdc
Madonna
Psy
Mafia k1 fry
Tiesto
Snoop dogg
Wil i am
Marilyn manson
Tina turner
Led zeppelin
Prince
Kiss
Beyonce
Dr dre
Fugees
Depeche mode
2pac
Jennifer lopez
Série Musique Page 4
Amy winehouse
50 cent
Manu chao
Justin bieber
The beatles
The black eyed peas
Iron maiden
Daft punk
Oasis
The police
David guetta
Lana del rey
Metallica
Taylor swift
Linkin park
Abba
Joachim garraud
Muse
Adele
Eminem
Solutions Logos Quizz France Jeux Vidéo 1
Série Jeux Vidéo 1 Page 1
Baldurs gate
Unreal tournament
Gears of war
Dota
The witcher
Oddworld
Oblivion
Killer instinct
Heart of darkness
Pikmin
Doom
Duke nukem
Candy crush saga
Okami
Bubble bobble
Quake
Jet set radio
The legend of zelda
World of warcraft
Forza motorsport
Série Jeux Vidéo 1 Page 2
Assassin s creed
Chuchu rocket
Plants vs zombies
Devil may cry
Tekken
Soul blade
Les sims
Skyrim
Skylanders
Bioshock
Double dragon
Super smash bros
Gran turismo
League of legends
Crazy taxi
Animal crossing
Mortal kombat
The house of the dead
Monkey island
Tomb raider
Série Jeux Vidéo 1 Page 3
Shadow warrior
Kingdom hearts
Serious sam
Dead island
Soul calibur
Ready 2 rumble
Space channel 5
Asuras wrath
Soul reaver
Space invaders
Crash bandicoot
F zero
Lost planet
Left 4 dead
Dragon quest
The wolf among us
Diablo
Saints row
Fez
Command & conquer
Série Jeux Vidéo 1 Page 4
Street fighter
Demons souls
Ninja gaiden
Syphon filter
Sleeping dogs
Bomberman
Castlevania
Sonic
Klonoa
Worms
Red dead redemption
Metal slug
Prince of persia
Far cry
Rayman
Super punch out
Luigis mansion
Batman arkham
Planetside
Silent hill
Solutions Logos Quizz France Jeux Vidéo 2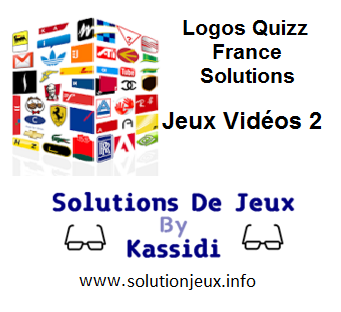 Série Jeux Vidéo 2 Page 1
Age of empire
Super mario kart
Guitar hero
Dead space
Dead or alive
Chrono trigger
Metal gear solid
The last of us
Garrys mod
Driver
Dragon age
Carmageddon
Zombiu
Borderlands
Dying light
Secret of mana
Super metroid
Spore
Virtua tennis
The darkness
Série Jeux Vidéo 2 Page 2
God of war
Donkey kong
Tenchu
Trackmania
La noire
Megaman
Shenmue
Dayz
Max payne
Battlefield
Starcraft
Hitman
Fatal fury
Dead rising
The walking dead
Another world
Ridge racer
Rage
Virtua fighter
Ghosts n goblins
Série Jeux Vidéo 2 Page 3
Sniper elite
Turok
Infamous
Vagrant story
Grim fandango
Dishonored
Pacman
Alex kidd
Portal
Pokemon
Mirrors edge
Half life
Minecraft
Tetris
Metro 2033
Payday
Crysis
Fallout
Halo
Killzone
Série Jeux Vidéo 2 Page 4
Evolve
Fable
Deus ex
Super mario world
Thief
Remember me
Grand theft auto
Counter strike
Super mario bros
Final fantasy
Nintendogs
Mass effect
Watch dogs
Resident evil
Flappy bird
The division
Machinarium
Call of duty
Runaway
Wolfenstein
Voilà que nous avons réussi à finir un autre jeu.
A très bientôt chers lecteurs pour d'autres solutions des jeux android et iphone.