C'est avec le pack Logo Quiz World United Kingdom qu'on reprend la mise en ligne des solutions du jeu.
Pour rappel, le jeu est développé par MSI Apps et contient plusieurs packs. Le principe est simple, il faut trouver la marque à partir de son logo. Le jeu est classé par thème, chaque thème correspond à un pays et dans chaque pays il y a plusieurs niveaux à passer. Le nombre de logos à trouver dans chaque level diffère d'un niveau à un autre.
Ce sujet contient toutes les réponses de la série United Kingdom avec les niveaux 1 à 6.
Si vous êtes sur un autre niveau alors visitez l'index de toutes les solutions et mots à trouver sur le jeu : Logo Quiz World
Solution Logo Quiz World United Kingdom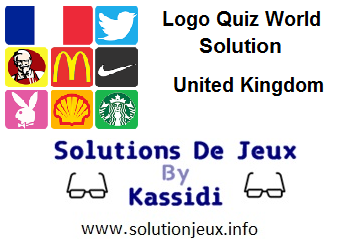 Logo Quiz World United Kingdom Level 1:
VODAFONE
VIRGIN
HARD ROCK
BP
ORANGE
TESCO
SAINSBURY'S
HSBC
REEBOK
BARCLAYS
KIT KAT
AQUAFRESH
LIPTON
MINI COOPER
ROLLS-ROYCE
BENTLEY
SKITTLES
INNOCENT
MARKS & SPENCER
ARIEL
LLOYDS TSB
JOHNNIE WALKER
TWIX
CADBURY
LAND ROVER




Logo Quiz World United Kingdom Level 2:
TWININGS
BBC
FAIRY
SUNSILK
NEXT
JAGUAR
ASTON MARTIN
BEEFEATER
CRAVENDALE
CHIVAS REGAL
TOP GEAR
UNESCO
ROVER
AVIVA
SUPERDRUG
FAMOUS GROUSE
YEO VALLEY
BT
HOMEBASE
HARRY POTTER
DOVE
EASYJET
CASTROL
IMDB
DOLBY
Logo Quiz World United Kingdom Level 3:
TYPHOO
PRUDENTIAL
BRITISH AIRWAYS
MAGNERS
TETLEY
DUREX
J&B
HALIFAX
PARKER PEN
MCLAREN
RANGE ROVER
PIZZA EXPRESS
LUX
UMBRO
EE LIMITED
KENCO
MIKADP
PWC
FULLER'S
AMNESTY INTERNATIONAL
ASDA
MARMITE
CHELSEA PC
PALL MALL
MANCHESTER UNITED
Logo Quiz World United Kingdom Level 4:
ERNST & YOUNG
DAILY TELEGRAPH
BURBERRY
THE GLENLIVET
NATWEST
DAVE
DUNHILL
DELOITTE
GLENFIDDICH
SUNPRIDE
THE INDEPENDENT
SAATCHI & SAATCHI
VAUXHALL
PEACOCKS
BALLANTINE'S
FLORA
SKY BET
LIVERPOOL FC
GRANT'S
VIVIENNE WESTWOOD
RIVER ISLAND
CARPHONE WAREHOUSE
BULMERS
T.M .LEWIN
IMPERIAL LEATHER
Logo Quiz World United Kingdom Level 5:
GALAXY
AIR MILES
DAIMLER
LIVELEAK
STREPSILS
PEDIGREE
LEE COOPER
KAY JEWELERS
LUSH
WONKA
SALVATION ARMY
MAYNARDS
PEPE JEANS
FISHERMAN'S FRIED
STARBURST
REUTERS
ROLLING STONES
POLLY POCKET
RBS
ANZ
SPLENDA
SMARTIES
DYSON
ARSENAL
OXFAM
Logo Quiz World United Kingdom Level 6:
MARSHALL
BOOST
GALT
KANGOL
EVERTON
ROTHMANS
RIMMEL LONDON
HUNTER
AQUAPAC
HEROQUEST
DOMTAR
LONDON UNDERGROUND
BRITAX
LAST.FM
STANDARD CHARTERED
MANCHESTER CITY
PEARSON
MECCANO
SPURS
OXFORD
PHILIP MORRIS
LORD OF THE RINGS
YMCA
COMFORT
PENGUIN
Je trouve dommage que le pays royaume unis ne contient que 6 niveaux. Je vous invite à découvrir les solutions des pays qui vous restent sur notre site.
A bientot