Logo Quiz World China Level 1-2-3-4-5 [Solution]
On poursuit la série des solutions à trouver sur le Jeu Logo Quiz World développé par MSI Apps pack China tous les niveaux.
Pour rappel, le principe du jeu est simple, il faut trouver la marque à partir de son logo. Le jeu est classé par thème, chaque thème correspond à un pays et dans chaque pays il y a plusieurs niveaux à passer. Le nombre de logos à trouver dans chaque level diffère d'un niveau à un autre.
Ce sujet contient les réponses des 5 niveaux de la série Chine.
Si vous êtes sur un autre niveau alors visitez l'index de toutes les solutions et logos à trouver sur le jeu : Logo Quiz World
Solution Logo Quiz World China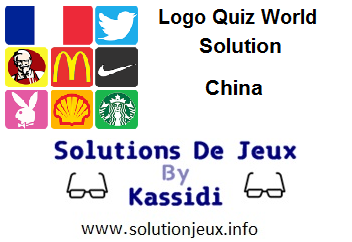 Logo Quiz World China Level 1:
LENOVO
ALIBABA
CHINA CONSTRUCTION BANK
MUTAI
AGRICULTURAL BANK OF CHINA
PING AN
CHINA MERCHANTS BANK
CHINA UNICOM
YILI
BANK OF CHINA
MENGNU
BANK OF COMMUNICATIONS
CPIC
BAIDU
ICBC
CHINA LIFE
CHINA TELECOM
CHINA MINSHENG BANK
YUNNAN BAIYAO
WH GROUP
TENCENT
SINOPEC
CHINA MOBILE
AIR CHINA
PETROCHIMIA
Logo Quiz World China Level 2:
VANKE
PICC
CHINA EASTERN
SUNING
TSINGTAO
CHERY
GREE
POLY REAL ESTATE
CATHAY PACIFIC
SINA WEEBO
MIDEA
LETV
CHINA SOUTHERN
EVERGRANDE
360
COUNTRY GARDEN
BYD
NEW CHINA LIFE
TONG REN TANG
HSBC
CTRIP
NEW ORIENTAL
NETEASE
HAIER
YANGHE
Logo Quiz World China Level 3:
SNOW BEER
DABAO
BELLE
CR SANJU
LAD FENG WIANG
WULIANGYE
LONGFOR
INDUSTRIAL BANK
GEMDALE
HAINAN AIRLINE
ROBAM
HOME INN
TANJING BEER
YONGHUI
R&F PROPERTIES
SANQUAN
ANTA
SOHO CHINA
METERS BONWE
SUOFEIYA
GUJING GONG JIU
CHINA EVERBRIGHT BANK
LUZHOU LAOJIAO
HARBIN BEER
GREAT WALL
Logo Quiz World China Level 4:
HANTING
ZHU JIANG BEER
QUAN JUDE
GREENTOWN
SUPOR
VHINA TAIPNG
YOUNGOR
ZHONG HUA
HISENSE
XUEERSI
CITS
JIN JILANG INN
YIHAOQUAN
SEMIR
SEPTWOLVES
TCL
CHANGYU
YASHILI
ZTE
BRIGHT DAIRY
HUAWEI
YONGHE KING
SOHU
TATA
9GAG
Logo Quiz World China Level 5:
PALIT
WECHAT
CNBM
CNOOC
GEELY
CONICH
OUIJA
JIDONG
CCTV
JARDINES
SINOMA
DENZA
WARHEADS
GONOW
HENGAN
LI NING
D-LINK
FOTON MOTOR
CITIC
EMGRAND
SHENHUA
HAFEI
REALTEK
AIA
VTECH
Je ne pense pas qu'il y a des personnes qui ont trouvé plus de 5 logos ! C'est le niveau difficile par excellence.
De toutes les façons, nous avons mis toutes les solutions du niveau Chine pour les personnes qui veulent tenter !